Why Are Vintage Vacheron Constantin Dress Watches Undervalued? Because Vacheron Constantin never had a smash hit dress watch. But why didn't Vacheron Constantin have a hit, and why do so many collectors focus on hit watches?
Fewer Hits Than The Grateful Dead
Consider early wrist watch icons like the Cartier Tank or the Patek Philippe Calatrava, and it becomes clear that Vacheron Constantin, the world's oldest continuously running watchmaker, has failed to create a dress watch icon, a watch that all collectors know and constantly reference, a touchstone of 20th century design and fashion. I've studied Vacheron fairly closely, and I can't name a single hit.
Vacheron's failure to produce a hit watch is not unique; most Swiss watch brands haven't produced a smash hit. But Vacheron Constantin is not most watch brands. Vacheron has been in continuous operation since 1755, and, along with Patek Philippe and Audemars Piguet, Vacheron stands as the senior member of the so-called horological Holy Trinity. And yet there's no single Vacheron Constantin that's a must-have and not-to-be-ignored kind of watch.
For anyone even remotely familiar with Vacheron Constantin, it is obvious that this lack of a smash hit wrist watch does not indicate any weakness of imagination, lack of style, or failure of craftsmanship. To the contrary, Vacheron has created some of the most historically important, mechanically innovative, and highly coveted wrist watches in history. Examples include the off-kilter Driver (1921), the tiny ref. 4261 minute repeater (1943), the ref. 6087 chronograph with cornes de vache lugs (1954), ref. 6213 automatic World Timer (1957), and many more.
The plurality of watches on that list may tell us exactly why Vacheron didn't manage a smash hit that reached the masses in large numbers.
Mass Producing One-Offs
When Patek released the famous Calatrava in 1932, the Stern family had just bought the struggling company and their goal was solvency and profits. Royal wealth that had supported elite horology was ebbing across Europe, America and further East, and Patek decided to produce a simple, practical wrist watch that would sell in larger numbers to the emerging middle class.
In the same year, Vacheron Constantin was still producing fewer than 1000 watches per year, and did so without machining interchangeable parts – meaning that each watch was a one-off requiring hand-tooling of all components. Vacheron staked both branding and pride on maintaining its old-school manufacturing techniques. One didn't buy a Vacheron Constantin because it was trendy; one bought a Vacheron because it was unique and hard to get.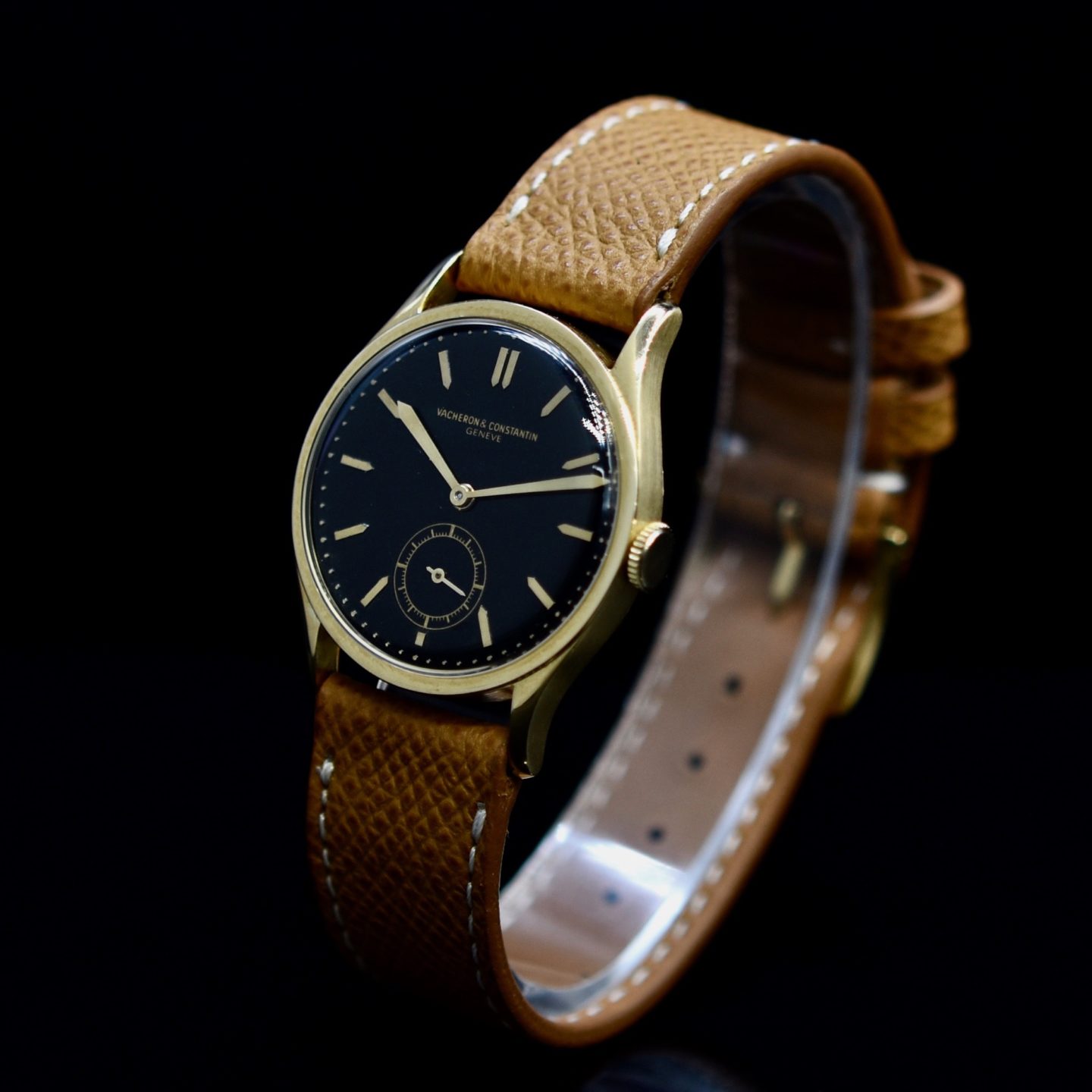 Eventually, however, the times and some significant fiscal concerns caught up with Vacheron, and in 1938 the brand merged with Jaeger-Le Coultre, which was producing exceptional mechanical movements with interchangeable parts in the modern manner. This merger allowed Vacheron to soon bump production up from around 1000 to 10,000 watches per year, a considerable number at the time. Working from Jaeger-LeCoultre's base calibers, Vacheron elaborated and finished these movements in much larger numbers at a much faster pace, and still Vacheron didn't mass produce that one single model that became a smash hit.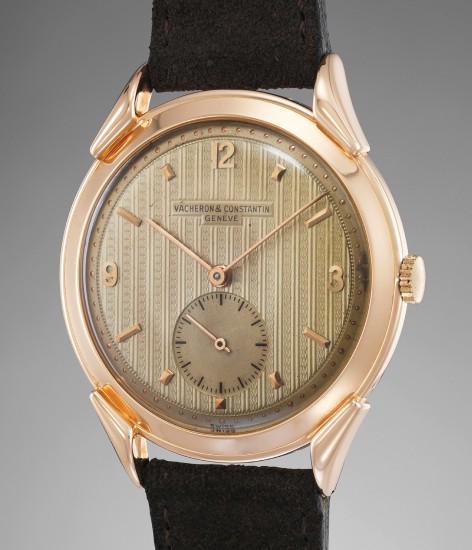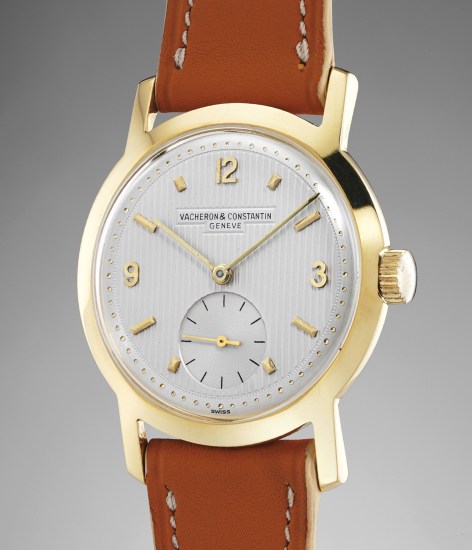 Rather than send out the same dress watch model to all of its retailers (like Patek and most other brands did by the mid 20th century), Vacheron Constantin continued to provide its retailers with watches that – at least on the surface – seemed like the one-offs the brand was known for. To accomplish this, Vacheron kept the movements the same, but varied the cases and dials endlessly for each reference.
It's generally believed that Vacheron would make around 20 of each dress watch variant and send them out to retailers that were geographically spread out in order to give the effect of unique pieces in each region. From a branding perspective, not only did limiting variants maintain Vacheron's centuries-old status as a maker of unique pieces, this strategy also upheld the halo around Vacheron's business making custom one-offs for elite customers, which the house continues to this day.
As an example of Vacheron's limited variant strategy, consider my Vacheron Constantin ref. 4906 from the early 1960s. Vacheron produced many 4906s from the 1950s onward, yet very few look anything like my specific, pink gold watch. While the movements are all variants on the cal. P1019 autowinder, the case metals, dial treatments, seconds hand placement, and applied markers can vary wildly from one 4906 to the next.
Further contributing to the diversity of Vacheron Constantin dress watches is the brand's tendency to offer many references in any catalog year, meaning that Vacheron was sending out multiple variants of multiple references. That diversity makes collecting vintage Vacheron dress watches somewhat confusing, but also satisfyingly challenging.
Hype-Resistant Then, Hype-Resistant Now
One effect of this diversifying strategy for Vacheron was their clear failure to produce a hit watch, like the endlessly repeated Patek Calatrava or the Rolex Datejust, for example. This lack of a hit was largely by design, however, as Vacheron did, and still does, rely on income from its custom one-off business. Keeping the haute halo glowing was important for Vacheron's bottom line, even if it meant forgoing mass popularity.
Just as no single Vacheron dress watch model rose to mass popularity during the 20th century, no vintage Vacheron dress watch has done so in the 21st. At the risk of insulting the collecting community, this is, in my opinion, evidence of herd mentality among watch collectors and enthusiasts. We all know about the "hot watch" phenomenon, and my cynical take is that vintage dealers don't push a brand if the dealer can't get large and uniform supply because: (a) the marketing effort isn't worth the low reward; and (b) because there aren't enough of the same watches to go around social media to create the required hype in the first place. That argument is admittedly a bit circular, but that's the nature of social media: no replication, no virus; no virus, no replication. Decades before social media, Vacheron effectively hype-proofed their dress watches.
"If PATEK PHILIPPE was on the dial…"
"…my Vacheron's value would literally quadruple."
If I had a dollar for every time I've said this of my vintage Vacheron Constantin watches, I could afford a Patek Calatrava. And I say it over and over because I believe it to be true. We are looking at solid gold watches with incredible movements, hand finishing, wonderful mid-century style, all from the oldest watch house in continuous operation. Relatively speaking, the value of vintage Vacheron dress watches is exceptional.
However, the low prices of vintage Vacheron Constantin dress watches often triggers the notion that Vacheron fails to appeal to people because the watches are just not that appealing. It would be impossible to convince me that there is anything inherent to these watches that sets their value at ¼ their counterpart from Patek, and on par with mass produced machine-made steel Rolex Datejusts. No, vintage Vacheron dress watches are objectively wonderful.
Instead, as I've argued above, it is Vacheron's uncommon strategies in the 20th century combined with our social media-driven herd mentality of the 21st century that has allowed these amazing old dress watches to go largely overlooked and undervalued.