The Skinny
Dimensions: 39 x 47.6 x 11.8mm
Case: Stainless Steel, Silver or Gold
Water Resistance: 200m
Movement: MT5402 In-House
Price: $3,800 (steel on bracelet), $4400 (silver on leather), $4,625 (bronze on bronze bracelet), $16,825 (gold on leather)
What Is The Tudor Black Bay 58?
Tudor's foray into dive watches began in 1954 when the Rolex subsidiary produced a lower-cost version of the Rolex Submariner, unsurprisingly called the Tudor Submariner. In 1999 Tudor discontinued its Submariner, then brought back their divers in 2012 with the smash hit 41mm Black Bay. In 2018 Tudor released the 39mm Black Bay 58, which completed the circle and brought us back to Tudor's 1950s designs.
The Black Bay 58 was a big hit with watch enthusiasts who tended toward smaller vintage models. We are four watch enthusiasts, three of whom own a Black Bay 58, and one who aspires to own the silver model.
This Review Is Long And Involved
We are going to take a long and detailed look at the Tudor Black Bay 58. With a little time and distance between us and the hype and marketing that accompanied the release, we unleash our raw opinions. Greg Bedrosian and Allen Farmelo are BTD founders. We've invited Allen's two life-long friends and fellow watch collectors John Drenning (lawyer, journalist, motorcyclist, and guitarist) and Patrick Neal (principal violinist with the Naples Philharmonic and badass guitarist) to weigh in.
We begin with Greg's empirical evaluation, and then move into our raw opinions.
The Case
From the top-down, the silhouette of the Tudor Black Bay 58 bears an uncanny resemblance to the earliest Rolex Submariners. It's deliberate, and enthusiasts pick up on that right away. The defining characteristic of all Tudor Black Bay cases is the tall, monolithic flank. In 1932, the Patek Philippe Calatrava was the first watch to create a smooth surface between the side of the lugs and the side of the case, and the Black Bay 58 takes that concept to an extreme. Many call it "slab sided."
If you plan on wearing the Black Bay 58 a lot, expect scratches and pitting on the polished flanks, as there's nothing to protect it.
The Rolex Submariner is a sexier case, for sure. Its crown guards are complex and interesting, its sides less tall, allowing the bezel and case back to become part of the architecture. The Black Bay 58's case seems a lazy effort by comparison, lacking the nuance and details that can make a profile view compelling. Compared to the 41mm Black Bay models, however, the 39mm 58 is far sleeker.
Yet, by no means is the Black Bay 58 svelte at an overall height of 11.85mm. Over half of the Black Bay Fifty-Eight's height is loaded in the 6.45mm tall flanks. That may be only 1mm taller than a modern Rolex Submariner's 5.45mm flanks, but it's an 18.3% increase. Let that be a lesson on how the difference of 1mm can drastically alter the design of a watch.
The Dial and Bezel
The slim coin-edge teeth on the Tudor bezel are unpronounced and thus accentuate the tall flanks further. The Black Bay bezel was almost inoperable with gloves. The toothy Rolex Submariner bezel, however, operates with ease in gloves. As a diving tool, the Black Bay 58 may be a disappointment, especially with cold hands and/or neoprene gloves.
Black & Gilt Variant in Stainless Steel
This black and gilt variant is really a very colorful watch, but it is not technically a gilt dial.
Gilt dials are made by applying gold on top of the case metal, then applying black paint and removing some of it to reveal gold markings. This process is similar to using a stencil. On the Black Bay 58, the gold is painted over the top of the black dial, so it's not really a gilt dial, though it looks like one.
Allen suggests he has coined the term fauxgilt. Anyone contend his claim as neologistician?
Anyways, the effect, along with the gold marker surrounds and hands, creates an undeniable warmth. For those who like vintage vibes, this is the one to get.
For those who disapprove of the "dots and dashes" hour markers combined with the snowflake hands, your argument holds weight on aesthetic cohesion, but not historical authenticity. The Tudor Submariner with serial numbers around the 888,000 range was constructed in exactly that configuration. If only the new Black Bay 58 had the wonderful toothy bezel of the 1950s Tudors, we'd have a much more accurate recreation, not to mention a more functional bezel.
Blue in Stainless Steel
I (Greg) personally opted for the blue variant, which followed the black and gilt. I like a more crisp and monochromatic look, and I tend toward sportier, modern watches. The cold and stark blue colorway is truly the opposite of the warm gilt and black.
More than a few blue examples of the blue Black Bay 58 show a gap in the bezel insert, typically near the 10-minute marker. Allen has seen no fewer than four blue examples with this problem. One gap was large enough to reflect light off the bottom of the bezel ring at certain angles, and drove the new owner crazy. Generally speaking, this is production slop you will find neither on a Rolex nor on other brand's divers in this price range. Though the gaps are small, it doesn't feel like Swiss excellence, that's for sure.
The Movement
All of the Black Bay models contain Kenissi movements. Kenissi is the joint venture between Tudor, Chanel and Breitling. One could argue that they are in-house, or not. However, since Kenissi reuses Rolex technologies and sits under Tudor's management, I think its reasonable to consider these as Tudor's in-house movements.
The movements come in two flavors, a smaller 54 series and a larger 56 series. These movements feature Rolex's silicon hairspring and Microstella-adjusted balance wheels, yet the two movements are quite different internally.
The cal. MT5402 found in the Black Bay Fifty-Eight is a much smaller movement at 26mm, while the cal. MT5602 used in the 41mm models spans a full 31.8mm. The smaller cal. MT5402 shows barely any balance wheel underneath the bridges. Interestingly, the smaller movement gets the higher jewel count with 27 compared to 25, Not having disassembled the movements, we aren't sure which pivots receive the extra two jewels.
The difference that owners will notice is that with the smaller cal. MT5402 in the Black Bay 58 the keyless works is set up backwards. To advance the time you turn the crown counterclockwise. It seems so counterintuitive at first, but you get used to it. It is likely that Tudor has removed pieces to save space on the smaller MT5402, and that this reduced configuration resulted in the "backwards" time setting.
The Bracelet
The steel bracelet on the Tudor Black Bay Fifty-Eight is exceptional. Tudor has engineered the tolerances for the solid end-links to fit perfectly between the lugs while still allowing easy removal. This comes down to careful design and execution, which we'd have liked on the bezel insert as well.
The bracelet of the Black Bay line takes its design from the Rolex riveted stretch bracelet from the mid-1950s (ref. 6636). Trivially, the end-links from those bracelets are reference "58," which is likely a coincidence that nerds like me notice.
The Black Bay 58 bracelet starts at 20mm and tapers to 16mm at the clasp. This is my preferred bracelet size, and it brings vintage vibes to the design.
The most important feature of the bracelet are the female end-links. This allows the first link to be male and fall straight down to accommodate smaller wrists. I believe that this is one of the most important features that has made the Black Bay 58 so popular on very small wrists, perhaps more so than the 39mm case size.
Four spring-loaded ceramic bearings hold the Tudor safety clasp in place. When you pop the safety clasp, it's not necessary to flip it all the way over. A little pressure will pop the clasp open with ease, and, as a Sub owner, it took me a while to stop prying the Black Bay clasp open.
For those seeking finer sizing, I recommend the Uncle Seiko half-link for $29 (half-link from Uncle Seiko).
If you aren't into bracelets, Tudor offers a fabric or leather strap. While woven at an industry-leading high quality, the fabric strap can be almost impossible to adjust to fit. It is also a NATO-style that raises the tall flanks of the case even further off the wrist. [Note that Greg hates anything but bracelets and rubber, and that John Drenning applauds the NATO fabric strap in his section below.]
The Tudor leather strap has the deployant buckle operating "the wrong way," which is common among a few watch brands. The Tudor leather strap (or any leather strap) also looks sloppy due to the low lug position. I would recommend buying the bracelet and purchasing an additional curved-end rubber strap from Vanguard for $125. If you do feel the need for a vintage military look, get an elastic MN-style strap. [Allen, however, adores the leather strap on the silver model. See below.]
OPINION 1 – Greg Bedrosian "I wouldn't want to upset the unspoken pecking order."
When Tudor released the Black Bay 58 in 2018, I wasn't seasoned enough to see past the Black Bay GMT, so I bought one of those. And then, after about a year and along with many others, I flipped my Black Bay GMT. Then I bought the blue Black Bay 58. Clearly I was indecisive, but the blue is clean and sterile, in the best way, which is my personal vibe.
Within Rolex, blue dials aren't common. To get a blue-dialed Rolex Submariner you have to spend big bucks on white or yellow gold, or even worse – a two-tone "bluesy". I know that a Tudor isn't a Rolex, and yet the all blue Tudor feels special to me because it's not a common Rolex color. I guess this is one of those problems we'll always have: comparing Rolex and Tudor.
I went to Catholic-Military school. I also work for a Fortune 50 company. I've been surrounded by rank and organizational structure for decades, and I'm pretty self-conscious about asserting rank with my watches. So, I wear the Black Bay 58 most days, and feel like I'm not overstating my position. Allen, always irreverent, tells me to "fuck the man" and wear my Rolex Submariner to work instead. But I wouldn't want to upset the unspoken pecking order. It does seem a little ridiculous. Thanks military school…
The Black Bay Fifty-Eight replaced a Seiko as my summer beater watch, which is also a little ridiculous: a $3800 beater. Yet, if I had to do it all over again, I would go for a vintage Tudor 9401. It's my favorite vintage steel sports watch. I'm not a Marine Nationale commando, so for now I'm content being the coolest dad at the beach wearing the 58 in blue – knowing full well no one but me really cares. Maybe I'll get that 9401 someday, but until then I'm happy with my Black Bay 58 in blue.
OPINION 2 – John Drenning " The Tudor feels like an heirloom you could still wear while digging a ditch."
I went out and actually bought one of these things with my own damn money; whether that renders my opinion more or less valuable is for you to decide.
A difficulty of describing a Goldilocks watch—and the BB58 is a Goldilocks watch if ever there was one—is that you risk damning it with faint praise. So before I get into the experience of wearing this watch, I should point out that Tudor's execution here is stellar. Which of course it should be for a $3,800 dollar watch. But if you're reading a watch website, then you also know that you can spend four times that on what is ostensibly a "tool watch," and that's not counting new watches that trade for well above retail. Here, any issues I have with respect to execution are purely in the realm of the subjective. (i.e., would a little red text on the dial to match the red pip have killed them? Asking for a friend…)
The quality of the BB58 is beyond reproach. I've not had a single hiccup with its performance, which is well within the exalted +/-5 secs/day range. The power reserve of the in-house caliber—if you care that it's in-house, which is certainly a nice thing, but remember when nobody cared?—is long enough that you can leave it on the nightstand for a few days in favor of something else. Though as I'll explain later, the only reason to do so would be the perfidy of the wearer. And the 200-meter depth rating, while insufficient for the saturation diving I'm sure each of does regularly, is 196 more meters than I need for any activity I've undertaken, well, ever.
And the finishing? Here, the Tudor more than justifies its price. Since I bought this watch, I became a loupe guy, which means I'll soon be able to use the word "horology" with a straight face. (But not yet.) I was at first a little hesitant to put the BB58 under the microscope, for fear of some normally invisible detail becoming un-seeable. I needn't have worried. There is nothing flashy about this watch, but it offers a feast of well-rendered detail under scrutiny. And not just the things you should expect at this price, ie, bezel alignment.
The case is polished on the sides, but you can enjoy the orientation of the brushing on the top, or the well-defined chamfer separating the two. And the dial—the black has a texture that's almost chocolatey, perfectly setting off the real money maker, those gilt indices and snowflake hands [Allen here – not real gilt, so fauxgilt]. There's a depth and warmth to the dial which draws you in without being overeager to please. The BB58's blue brother may have a bit more hey-look-at-me in the display case at the AD, but if we're not extinct in 2042, please ask me if the perfectly lovely blue dial has aged as well as the black dial.
The black dial, being a bit more circumspect, I'm not sure I'd even fully realized how engaging it was until I put it on to start this piece. I'd been wearing my catchily-named Seiko SPB239J1—hey, Seiko, stop blowing all your money on marketing already!—and took it off to put some more mileage on the Tudor. The SPB239J1 is one of Seiko's 147 different 62MAS reissues, and while I've always loved the 62MAS, no reissue prior to this one had compelled me to vote with my wallet. But hold the Seiko in one hand, and the Tudor in the other, and you'll likely quickly get the sense that only one of those watches was built to a price. The SPB239 is a tool watch in the purest sense of the word, which is great if you want to smack it around, but you're a lot less likely to imagine your heirs fighting over it.
The Tudor feels like an heirloom you could still wear while digging a ditch. And it's the former quality, not the latter, that separates it from the Seiko; of course only you can decide if the former quality matters to you. But if you want just one watch, and you want to not only keep it for the rest of your life, but pass it on once you either shuffle off this mortal coil, or make the leap to a smartwatch (philosophically speaking, is there a difference?), then the BB58 is an incredible value.
I've worn it with a suit and with a sweatshirt and it never felt out of place. There's not an event or an occasion that feels out of its league. It really dresses up on a brown croc strap. Put it on a NATO and it disappears. (Sadly, Tudor won't sell it with a bracelet and a NATO, which is a shame because Tudor's OEM NATOs are the finest I've ever worn. I would gladly pay more for the option of owning both.)
And while prognostication makes fools of us all, I'm wagering the BB58's appeal endures. When you actually own a loupe, you can use phrases like design language, and Tudor has certainly cultivated their own, with a dive watch lineage as long as anyone's, dating back to the ref. 7922 in 1954. (Then with the Mercedes hour hand; like the author, the snowflake hands didn't come along until 1969.)
Speaking of design: you know you have a winner on your hands when you can identify a watch in the dark, just by the lume. Combine that with a reasonable case size, no crown guards, that slightly odd but perfect Tudor font on the aluminum (hooray!) bezel, and riveted Oyster-style bracelet with solid end links and just the right amount of jangle, and what have you got to complain about? Well, you might want drilled lugs, and you might want a micro-adjust on the bracelet; the BB58 Bronze offers the latter, whereas the former is churlishly absent from Tudor's lineup since the departure of the Ranger in 2020. But I've shared the bathroom with the BB58 long enough to know that those two nitpicks are all I have, or will have.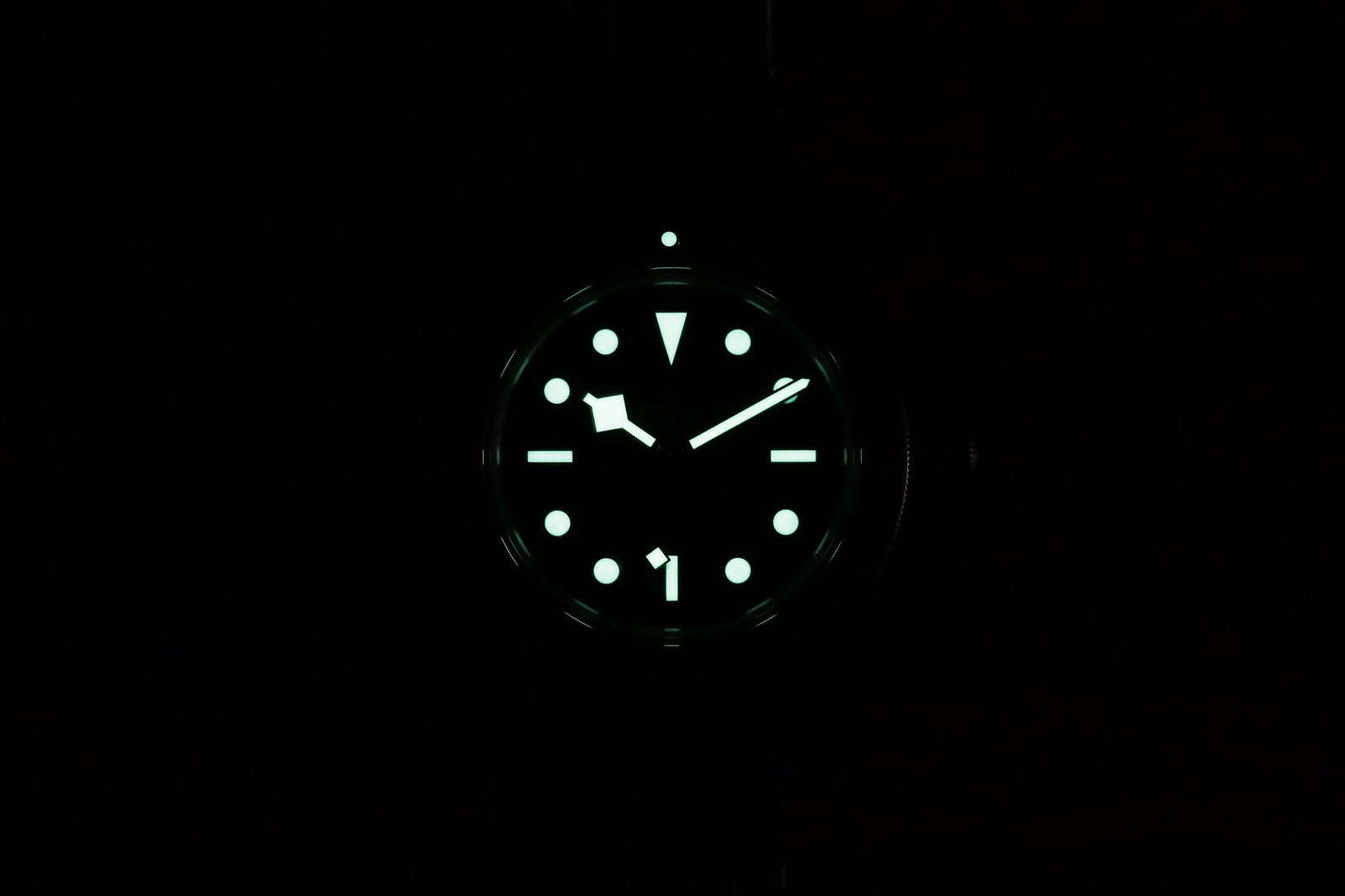 If—horrors!—you want to have a one-watch quiver, this certainly isn't the only candidate. But it's not a huge field, especially when you exclude watches you can't just go to an AD and pay retail for. (Who knew this would become a privilege?) Don't be the guy wishing you'd bought one of these twenty years ago. You're welcome!
OPINION 3 – Patrick Neal "There is a reason people keep coming back to these classic, vintage designs."
I'm somebody who has spent most of his time in the affordable range. Seiko, Casio, micro-brands. But like so many of us, I incessantly study, read about, and drool over watches of a higher caliber. So when I decided to go looking for a better quality diver it was a fairly big decision for me, but I was not starting from square one. Where I ended up did surprise me, however.
I've always admired the Black Bay line of larger divers, but the fit and the tall, boxy case were deal-breakers for me. The most surprising thing about the Black Bay 58 is just how different the fit is from the original Black Bay 41mm model. In pictures the BB58 looks very similar to the original, but on the wrist it is sleek, svelte, slim and sophisticated. Words usually reserved for a dress watch, but equally applicable here.
In my case, I was looking for a diver of higher quality than my Seikos. Something that I could wear to work, a so-called dressy diver. After a good deal of careful consideration I ended up with the black BB58. Several aspects of the watch give it a high-quality feel: the warm gold on black dial, the slim coin edge bezel, the fact that the bezel insert uses the same gold as the dial. The bezel insert also gives the impression that the watch is slightly larger. To my eye it is a noticeable improvement over the original BB historical, which uses a similar (faux)gilt dial but pairs it with silver numerals on the bezel insert.
One of the main things that appealed to me about the BB58 is it's relationship to the original Tudor Oyster-Prince diver. Having the same gilt dial and red triangle as the original Tudor gives it historical credibility. But this is not just a perfunctory copy of an old watch. It has thoughtful details and nods to the original, while maintaining its own personality. Credit to Tudor, this is hard to do.
I love that this watch has an in-house movement that was specifically designed for the BB58. This gives it a more exclusive, bespoke feel than an ETA movement would. And the fact that it is COSC rated with a 70 hr power reserve helps too.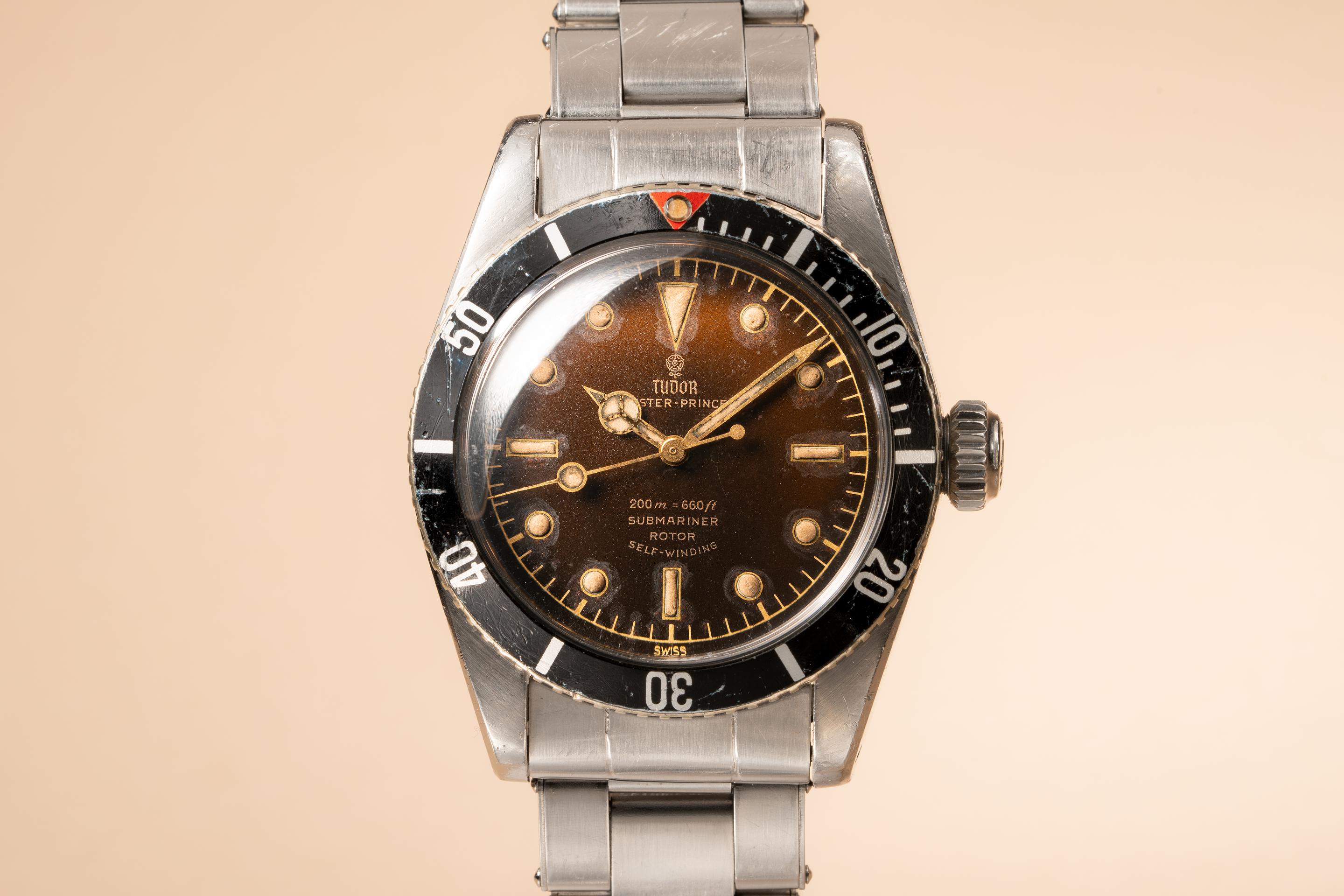 My favorite thing about the BB58 might actually be the lugs. Beveled and tapered, they are a classy acknowledgment of vintage subs and the time before the Maxi case. The lugs feel long, well-designed and subtle, not brutish. This is clearly a well-informed and thoughtful watch. To some it may seem like a boring choice. But just like visiting the Eiffel Tower or the Colosseum, there is a reason people keep coming back to these classic, vintage designs. The BB58 has depth of character and a feeling of history that invokes memories of the great watches.
OPINION 4 – Allen Farmelo "I realized I like the slab sides if they're going to appear to glow from within as this silver does…"
Crazy things can happen when you see a watch in person. I just saw the silver Black Bay 58 for the first time and fell in love. This after dissing hard on the Black Bay 58s, largely because they have slab sides and because I don't care about in-house movements and because Tudor is Rolex Jr..
Then the silver went on my wrist, then my head spun, then I realized I like the slab sides if they're going to appear to glow from within as this silver does because it has platinum infused into it for hardness. I also realized I like an in-house movement when it's framed in silver and seen through a sapphire crystal. This silver edition of the Black Bay is so elevated that it scratches my itch for precious metal dress watches.
Dammit, I didn't see that coming. Now I'm scrounging up $4400 I don't have for a watch I didn't think I liked.
The lessons here is two-fold, and they're about images.
Firstly, like many brands, Tudor often uses 3D renderings rather than real photos. These renderings do nothing to convey the depth and warmth of the silver.
Secondly, this silver edition just doesn't show up very well in real photographs. It looks kind of meh in every image I've seen, and this has caused those who don't do hands-on reviews to reinforce the notion that the silver edition is muted. Hogwash.
The silver edition of the Tudor Black Bay 58 is not muted! The word for it is: luminous.
Ever tried to photograph the moon? The moon always looks meh in photos, but in person you might howl at it. The silver edition of the Black Bay 58 is like the moon.
With all that said, the Black Bay 58 from the side still bums me out to a degree. It's so empty as to inspire graffiti. Someone should do something with those boring slab sides. Maybe I'll have my silver one engraved like Teddy Roosevelt's' Tiffany knife.
For the steel models, however, I'd rather have seen a Rolex Sub with a third-party Sellita movement than a Tudor Black Bay 58 with an in-house movement. Use an ETA and charge $2200, and then the Black Bay 58 in steel makes sense to me. But I'd rather have a $3800 Sub with an ETA, or even a freaking Sub homage, which was what the original Tudor Sub was. Anyways, in steel, I'm not into the Black Bay 58 because those big polished steel sides bore me.
Alas, one must compromise in life in order to be happy, and I like being happy, and so I will placate my reservations about the slabby sides of the Black Bay 58 by enjoying all that luminous silver metal beaming at me like the moon. I will consider those slabby sides as a blank canvas for some talented engraver once I figure out exactly how I want to destroy this watch's resale value.
Folks, see this stuff in person. There's a reason we only write about watches we've seen in person. Otherwise it's a crap-shoot. Form your own opinions. We hope our opinions here help you see a little more clearly.