The Skinny
40mm
200m water resistance
STP 1-13 in-house auto-winding movement with date and swan neck regulator
Precision: +2.5 secs / day
first released in 2020
$1495
The Many Meanings of "In-House"
In-house has become a contested phrase, its definition various and vague. We need to clarify how I'll use in-house in regard to this Zodiac Super Sea Wolf Compression 53 dive watch, because the in-house Calibre STP1-13, which is performing with a precision of +2.5 sec/day, is a big part of why I recommend this watch.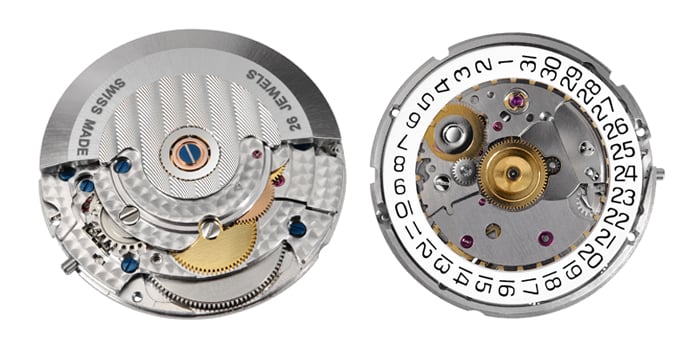 Before the industrialization of watchmaking, in-house meant that a watchmaker personally built the movements in the watches they sold. With the industrialization of watchmaking in the early 20th century, we saw the rise of interchangeable parts, a massive increase in production numbers, and before long most movements had to be made in factories. Some factories made the whole movement, some specialized in specific individual parts (esp. hairsprings), other factories made proprietary components for brands, and so on with the often confusing complexity of industrial watchmaking in the 20th century.
For some traditionalists (myself included), in-house still refers to the small manufacturers making watches in the traditional manner, such as Vacheron Constantin's custom shop called Cabinotiers. But as semantically fussy as I wish to remain, in common parlance (and, yes, marketing copy) in-house means many things these days. Consider this confusing list of possible meanings:
in-house (1) – movement made by hand and crude machine in a small workshop (e.g. Vacheron)
in-house (2) – proprietary movement made in a brand-owned factory (e.g. Moser, Rolex)
in-house (3) – proprietary movement made in non-brand factory (e.g. Bremont, Oris)
in-house (4) – non-proprietary movement made in a brand-owned factory (e.g. Seiko)
in-house (5) – non-proprietary movement made in a factory owned by the brand's holding company (e.g. Longines, Zodiac)
The calibre STP1-13 in the Zodiac Super Sea Wolf 53 Compressor belongs to the fifth category of in-house movements. These movements are made in a factory called Swiss Technologies Production (STP) owned by Zodiac's holding company, Fossil Inc.. STP's base caliber STP11-1 can substitute for the ETA 2824 and Sellita SW200 used broadly among many brands large and small.
Note that Fossil established STP a full 11 years prior to ETA's 2019 announcement that its movements would no longer be available to brands outside the SWATCH group, a move which (if I'm being cynical) likely pushed brands like Tudor and Christopher Ward to bring movement production in-house. This vertical integration is billed as a move upmarket and a boon to watch enthusiasts – which it may be – but the impetus for going in-house is probably more mundane. With a company as vast as Fossil, going in-house likely made good business sense.
Regardless, with Fossil's STP movement factory supplying Zodiac, clearly we are a long way from what, say, Vacheron does. Nonetheless, Zodiac having its own sister factory to work with is nothing to sneeze at. The ability to tweak, modify, develop proprietary tech, and so on is at Zodiac's finger tips. And Fossil is investing mightily in Zodiac as its flagship mechanical watch brand, with STP churning out quality Swiss movements for Zodiac with room to grow.
Some may argue that any third-party movement maker could individualize and tweak movements for Zodiac, but there are sometimes inter-client tensions (and even contracts) that prevent such privileging. Longines, for example, which houses two ETA factories on its grounds, develops proprietary movements, and so does Seiko, while supplying millions of non-proprietary and/or less carefully regulated movements to other brands. All this to say that there are advantages to this kind of in-house arrangement, and those advantages can show up in the watch you're buying.
A Swan Neck Deep In The Weeds
Note that the STP1-13 is a sort of elaboration on the STP1-11 base calibre. The STP1-13 was introduced in 2016 and is now (in 2022) being phased out. Zodiac has informed me that STP is making improvements to the STP11-1 base movement, and that the consistent high precision of the STP1-13 will be maintained through those improvements to the STP11-1. (We have confirmed that the new generation of STP11-1 maintains excellent precision through testing of a Zodiac 53 Skin, which performed at +5 sec/day)
What this shift in the movement lineup at STP means for us watch collectors now – and those of you reading in the future – is that the STP1-13 will eventually be a rather interesting and less common movement to own. The upgrades in the STP1-13 over an ETA 2824 or Sellita SW200 include an extra jewel on the mainspring barrel and, more importantly, a swan neck regulator. A swan neck regulator is a long extending spring used to adjust the rate of the watch for superior precision, and it may partially account for the STP1-13's excellent precision. While a swan neck regulator does not increase the inherent level of precision a movement has, it does allow a watchmaker to regulate the movement efficiently with good accuracy, so it is this benefit I think we are seeing here with this Zodiac.
Some have speculated that the swan neck in the STP1-13 may derive from the Seagull calibre 1963, which is a highly regarded Chinese movement popular with watch enthusiasts. However, given the otherwise vast differences between the STP and the Seagull, such a lineage seems unlikely.
Wherever you land on that speculation, if you get your hands on a Zodiac Super Sea Wolf 53 Compressor with an STP1-13 movement, you'll own an interesting legacy machine that achieves its impressive precision through an old-school swan neck mechanism. If, on the other hand, like me, you end up with a newer Super Sea Wolf with an STP11-1, you'll be benefiting from upgrades to the base calibre being implemented as Zodiac/STP phases out the STP1-13. This transition is happening currently, so expect most Zodiac Super Sea Wolf models from 2023 onward to have STP1-11 movements.
Precision Like This Requires Hand Tuning
As we discuss in our How Watches Work Podcast Episode 4 on Servicing, many of the more affordable, industrially-produced calibers from ETA, Seiko, Sellita and so on can be made to run within COSC specification (-4 to +6 secs/day). What's required is proper regulation, which involves a bit of work by an experienced watchmaker. When we see movements running with the consistent precision that we've seen in these STPs in the Zodiac Super Sea Wolfs, we know that these left the factory after a human spent some time fine tuning the regulation. Here at Beyond The Dial, we value that extra work.
We value this precision it because it reveals a level of care and attention that we would like to continue to associate with Swiss watch making, because we are sticklers for high quality and workmanship in all things, because we know it's possible to get exceptional performance out of relatively affordable watches like these Zodiacs, and because we know well the aesthetic, hedonistic pleasure of owning fine tuned machines. I ride a Ducati and David Flett drives a Ferrari. Precision brings us pleasure.
Beyond The Fossil Stigma
Alas, Fossil, who churned out fast-fashion watches in the consumerist bonanza of the 1990s, has little cred among today's thoughtful lovers of precision Swiss watches. I hope that our looking at the very precise STP movements in these Zodiac divers has made it clear that Fossil's ownership of Zodiac is of little importance when it comes to judging the quality and soulfulness of the watches once they're in-hand. These Zodiacs are good looking, high quality dive watches with a deeper history than the Rolex Sub, and they employ in-house movements running within COSC precision standards. If that's what Fossil ownership amounts to, then three cheers for Fossil ownership. Other brands should be so lucky.
The Zodiac Super Sea Wolf in the 1960s
The initial Zodiac divers appeared in 1953, and these are recreated today as the Skin series of watches. Though the Compressor watch in hand here carries '53' on the dial, its design dates to the 1960s, a time when Zodiac was elaborating on its dive watches as a wider market opened up for casual garb more generally. It's almost unfair to only review this one color, because the same watch is available in a wide range of colors, but I thought the baby blue was especially appealing, unique, and very early 1960s.
What you get here is a very vintage-looking watch at a modern size of 40mm. There aren't any real surprises with fit, and the finishing is excellent. I'm going to let the images tell most of the story here, but will to note a few things that really are special.
The Bracelet
I don't even like bracelets, but this one is so cool. First of all, it's a five-link "jubilee style" bracelet, so it's got some pizzaz from the polished center links. The taper is classic, narrowing from 20mm at the lugs to 16mm at the clasp. The butterfly clasp is pretty great. No micro-adjustment, but that's why I mostly don't like bracelets anyways, because even the best micro-adjustors are kind of a pain to use. The watch is cool on a Tropic strap. Big ups to Zodiac for making the bracelet quick release.
Case Finishing
Given the price point, the case finishing is excellent. The edges aren't going to make any Grand Seiko step aside, but then what does? The brushing is fine-grained and elegant, and I really like the vertical brushing along the side of the case and lugs. It adds a vibe that kind of reminds me of a bark finish on a Rolex or Vacheron – somehow earthy, and rather unique.
Legibility & Dial
No complaints here. What I want to point out, however, is that Zodiac, unlike, say, Tudor and Rolex, has smartly kept its hands and markers in the same shape-category. Rectangles get rectangles here, and triangles get triangles on the Skin models. For me, this is the way to go, as it unifies the dial, like it knows what it wants to be.
Durability
The smaller 1950s-styled Super Sea Wolf Skin models have ceramic bezels, and because I am very hard on dive watches that's the one I own. I'm a little suspicious of the durability of this bezel insert here on the Super Sea Wolf 53 Compressor, which imitates the Bakelite bezels on the originals. But, if you're like me, you'll just wear something else when you know you might smack the thing around. No one wants to beat up such a pretty watch anyways.